Our Values: Ethics, Sustainability, & Transparency
The practices and footprint of a jewerly business are just as important as the design and craftsmanship. We choose to run our business, create our jewerly, and source our materials with people and the environment in the foreground. First, we do that in house, with our systems, procedures, and choices. Next, we build relationships with ethically empowered suppliers to support sustainable and ethical practices. Finally, we transparently share and deliver that to YOU, our customers, who care about the who-what-where-why-and-how impact, of the products you choose to have in your daily lives.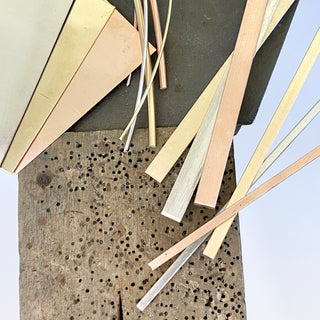 Our Metals
Each Jen Leddy Studios piece of jewelry is hand-crafted using traditional goldsmithing techniques from 100% SCS certified recycled metals. 95% of our collection is entriely hand-fabricated directly from metal, and the other 5% is cast (from from originally hand-fabricated samples), and finished by hand.
We diligently recycle clean scraps of metal in house by pouring ingots and rolling, drawing, or forging stock and wire into the dimensions we require. That's recycling X2! All other metal scraps and filings, benchsweeps and floorsweeps, we have refined through our trusted Green SCS certified refiner.
In addition, through our Custom process, we recycle our customer provided metal when applicable and suitable.
Our Stones
We use recycled, antique, and post-consumer as our primary sources. We LOVE antique and vintage cut stones for multiple reasons: their unique, one-of-a-kind, hand-cut faceting, their history, and their low environmental impact on the earth today.
Our melee (small diamonds under 3mm), is purchased from a supplier who specializes in recycling and recutting, and guarantees a minimum of 80% recycled inventory (the remainder as a necessary influx of newly mined (from trusted and Kimberly Process compliant sources), to ensure a complete and consistent inventory).
Secondarily, we choose Canadian mined, because of their strict and ethically focused regulations. Any other diamonds we select are "conflict-free" based on the stipulations upheld by the Kimberly Process.
Our gemstones are natural and carefully chosen by hand from select vendors who share ethical and transparent business practices (mine-to-market whenever possible).
We also enjoy working with client's heirloom jewelry and stones for re-purposing. Contact us for more information about our Custom Process and repurposing.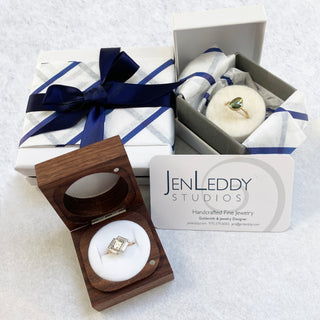 Our Packaging
We have thoughtfully researched and carefully selected our packaging to meet our sustainable standards. This includes:
~ 100% recycled content and soy-based ink business cards, note cards, and tissue paper
~ zero-waste shipping lables and stickers
~ kraft paper-based pressure sensitive tape
~ ribbon made from 100% recycled plastic bottles
~ recycled box board jewelry boxes; FSC approved & paper covering made from sustainable forests
~ natural pressed felt inserts
~ hand-crafted wooden boxes made from sustainable timbers
Behind the Scenes in our
Studio
We operate a green studio by implementing procedures and following systems that help reduce our waste:
~ our studio runs on solar power
~ we purchase 100% recycled, post-constumer, home and office products like printing paper, paper towels, and toilet paper or sustainable products like bamboo towels
~ we re-use anything we can, including washable hand and studio towels, and boxes and packaging we receive from vendors or customers
~ we recycle properly, as directed by our local recycling plants (including separating plastic films recycling), and we compost
~ we employ 2 air ventilation and dust collection systems, at the bench and at the polshing lathe
~ we choose the more environmentally friendly alternatives to standard toxic jewelry studio products, as they are available in our industry:
1) citric acid as a pickle, instead of sodium bisulfate
2) borax cone flux instead of fluoride heavy options
3) bio-degradable ultrasonic solution instead of commercial grade ammonias
We encourage transparency and the sharing of both knowledge and awareness in this venture, helping us and our community do even better! We take pride in the choices we have made in our studio to date, but it is an ever-evolving process and requires a constant drive to learn and embrace impactful change. The jewelry industry as a whole is far from a perfect system or model, but every educated choice we make, helps.
We welcome questions, suggestions, or feedback about sustainablity and ethics in our studio and our industry.