Our Guide to
CARE & CLEANING
Keep your beautiful jewelry looking like new and lasting for not only a liftime, but generations!
Jewelry is delcate by nature...
...so please be conscientious while wearing your jewelry and ensure you care for it properly. First and foremost, the best practice is to follow the motto: your jewelry is the last thing on before you leave the house, and first thing off when you come home. In reality it is difficult to follow this regimen routinely, so the bullet point is to always keep your jewelry clean and dry.
Remove your jewelry when bathing, beaching, exercising, applying perfume and lotion, house cleaning with chemicals, gardening, or sleeping. Avoid chlorinated pools as the chemicals may cause damage over time. We emphasize removal before: swimming (high risk of loss especially in the ocean), before climbing or lifting weights (potential danger to your finger if caught in an accident), before applying lotion or bar soap (can get caked into crevices and between settings which can dull stones or loosen settings), and lastly before sleeping (especially with prongs because they are prone to damage when caught in blankets or sheets).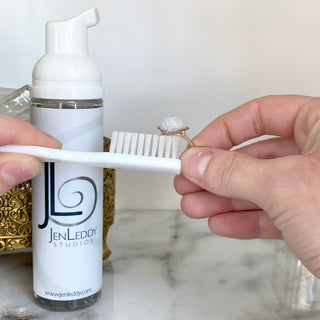 Maintain an at home cleaning routine
*Remember to insert your drain catch before cleaning your jewelry.
To clean: Use Jen Leddy Studios' biodegradable foaming cleanser and the provided brush as directed on the label (safe on most metals and most gemstones, including pearls, opals, and turquoise). Apply foam to jewelry; allow to soak for 10-30 seconds; work into hard-to-reach places with a soft brush; rinse well; repeat as necessary.
If you don't have the foaming cleanser, you can purchase it here.
Exception - Juicy Gems: Do NOT use foam cleanser and do not submerge any fully closed bezel set gemstone piece in water. Moisture can get trapped behind the stone and cause discoloration, mold, or at worst damage the stone. See below for more details.
Other Cleaning Methods
NOTE - Juicy Gems: Do NOT submerge any fully closed bezel-set gemstone piece in water. Moisture can get trapped behind the stone and cause discoloration, mold, or at worst damage the stone.
Juicy Gems Closed Bezel Piece Cleaning:
1) Use a damp soft cloth or paper towel to wipe away any dust or dirt.
2) If extra cleaning is needed, apply a salt grain sized dab of Dawn dish soap to the damp cloth and gently scrub (avoiding the edge of bezels).
3) Rinse and wring the cloth completely before repeating, and remove soap residue. Then pat thoroughly dry. 
Polishing Cloth: With a soft and clean jewelry polishing cloth, you can bring back the shine on your polished pieces. Be sure to clean the piece with soap and water before wearing, as there is compound on the cloth that can be a skin irritant. These cloths shouldn't be used on matte or oxidized finishes. *The polishing cloth will blacken wherever it has touched metal - this does not mean it's dirty nor that it is ineffective. It can be used over and over again, even when it's fully black. Store the cloth in a baggy so it stays clean and doesn't collect dust or dirt that can scratch your jewelry next time you polish. 
Simple Soap & Water:
1) Using warm water and Dawn dish soap (original blue preferred), massage or gently scrub with either your fingers or a soft, designated jewelry-only, toothbrush. Be sure to get into and behind settings, around stones.
2) Rinse thoroughly. Shake out excess water. Pat thoroughly dry with soft, clean cloth. 
Baking Soda Method: Struggling with stubborn tarnish on your bright sterling silver pieces? Fear not! Follow these environmentally friendly cleaning guidelines to brighten silver and remove tarnish:
1) In a heat-resistant bowl lined with aluminum foil, place your pieces loosely and distribute evenly.
2) Sprinkle a thin coat of baking soda to cover pieces completely.
3) Pour hot (not quite boiling) water over the jewelry, just enough to submerge it. This will initiate a bubbling chemical reaction that breaks away dirt and tarnish. Agitate the bowl for a least a minute. This ensures the reaction reaches all nooks and crannies.
4) Let soak for several minutes.
5) Gently wash with Dawn dish soap (original blue preferred), rinse well, pat thoroughly dry. Repeat as necessary, until bright and shiny!
For spot-specific: take dime-sized portion of baking soda in your palm with a couple drops of water to create a liquid paste, and gently rub into jewelry.
NOT for oxidized sterling silver; the Baking Soda Method will remove the blackened patina.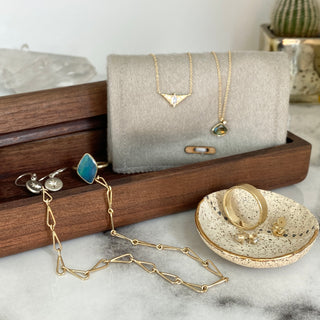 Jewelry Storage
How you store your valuable pieces when you're not wearing them is just as important as cleaning.
For short-term storage, be sure to designate a safe place like a small dish on your dresser or nightstand, to keep your jewelry when not being worn.
For long-term storage and protection from impact or exposure, we recommend a jewelry box or secure drawer. In addition, using individual pouches reduces the potential for scratching or chipping.
For travel, choose a zippered or buttoned pouch, or small box, that you keep on your person at all times. Keep your chains in baggies or pouches to avoid tangling. Separate pieces with soft stones like opals, pearls, and turquoise from hard stones like diamonds, sapphires and rubies, to avoid scratching.
Additional Tips
~Take extra care with soft or porous stones like turquoise, opal, and pearl
~Avoid commercial jewelry dips
~Ultrasonics can be used with solid metal pieces OR pieces with diamond, sapphire or ruby ONLY (sonic waves can damage other gemstones) (NOTE: do NOT ever clean closed-back bezel pieces in ultrasonics)